Richard Spencer, one of our members, played at the National Scrabble Championship over the weekend of June 11th-12th.   Here is his report about how he got on.
I play competitive scrabble as a hobby and played at the UK scrabble championship on the weekend of 11-12th June.  I have been a member of the East Berks Scrabble Club for 6 years and have played in regular tournaments across the UK but this was my first experience of playing in the biggest tournament in the UK calendar.
The tournament was held in a Bristol hotel with 16 games played over 2 days with a field of 80 players. Each player has 25 minutes on the clock to make all their moves.  The standard was high with a World Champion, US champion and several UK champions playing and the Sunday Times were covering the event.
I played the defending champion in game 2 and lost but it was a good learning experience and I managed to win 7 games in all to finish mid table.  The former world champion had a bad start losing 3 of his first 5 but won the tournament by winning his last 11 games to finish on 13 wins.
One highlight was playing against a blind girl who used an abacus to record all her scores and used braille tiles which were arranged in a tray. As well as laying her own tiles by touch she had to move her hands across the board to work out where I had played. She was also spot on with calculating all the scores for each of her moves and used less than half her time to complete her game–truly inspirational.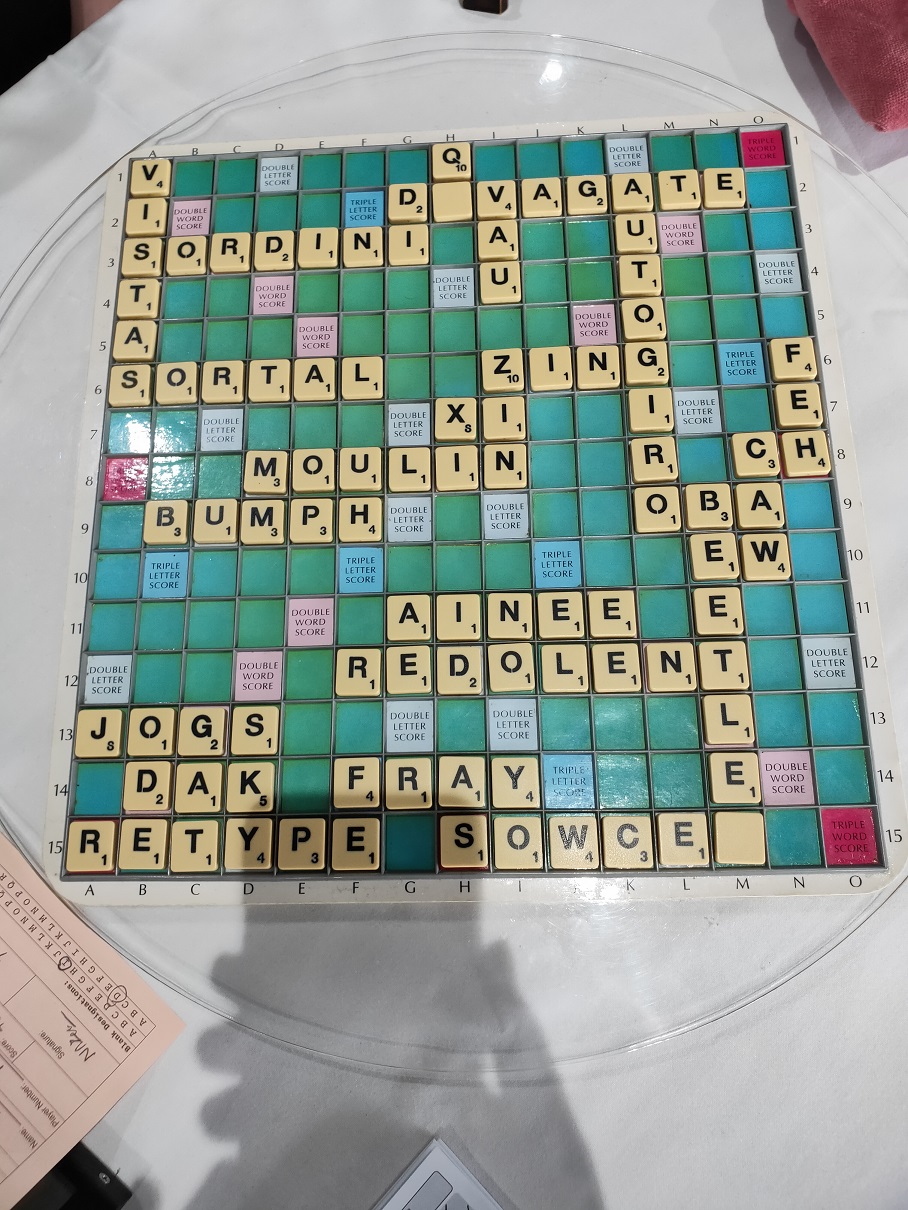 Included above is a photo of one of the boards of one of the more interesting games against a stronger opponent.
When you play all your tiles you get a bonus of 50 points to add to your score for that word.  In this game I played three bonus words of SORDINI, DIVAGATE and REDOLENT while the opponent played BEETLED and AUTOGIRO.
I lost the game by 7 points as the opponent scored a few more points with some of his other words and played out first with SORTAL so had an extra turn than me. He pointed out that if I had blocked that move, he could have still gone out with TOLARS bottom right also making EWT.
All in all it was a challenging but very enjoyable experience meeting a lot of interesting and friendly people.
Richard Spencer