Details

Written by

HG

Category: Wordplay
Hits: 820
As storms CIARA blows in, why not attempt this quiz :
What 2, 3, 4 and 5 letter words can you make from CIARA ?
Answers below :
Answers below :
Soon be there :
Almost there :
Answers :
Two letters : AA, AI, AR
Three letters :  AIA, AIR, ARC, CAA, CAR, RAI, RIA
Four letter words : ACAI, ARIA, CRIA, RACA, RAIA
Five letter words : ACARI
A good average number is  8-10
Well done if you found 12-15.
Excellent if you found all 16! 
Details

Written by

HG

Category: Wordplay
Hits: 807
Here are the answers to the 26 anagrams :
MOG?KID - N - kingdom
RUC?CII -  T - circuit
LES?AAA - Z - azaleas
JEM?STY - A - majesty
OOV?CAA - D - avocado
COP?ABE - L - placebo
LIC?SOW - P - cowslip
JOB?KUE - X - jukebox
AAD?GHN - B - handbag
ARC?LIZ - Y - crazily
HAL?RAN - W - narwhal
TRY?YEM - S - mystery
AAC?DKW - J - jackdaw
MUST?SH - I - isthmus
SOLD?XI - F - sixfold
EEL?LOG - C - college
EEE?ACU - V - evacuee
EX?IONU - Q - equinox
IF?ACUS - H - fuchsia
AAJ?RSU - G - jaguars
WET?BEN - E - between
HAY?CAW - R - archway
TNY?BLL - U - bluntly
GLN?RWY - O - wrongly
KIP?PUN - M - pumpkin
NNN?UWO - K - unknown
Details

Written by

HG

Category: Wordplay
Hits: 839
Well done if you attempted the 3 letter word chain puzzle. It  was harder than it looked. I had two replies one of 34 letters - well done Maire, and another of 74 from Wanda. Here is her solution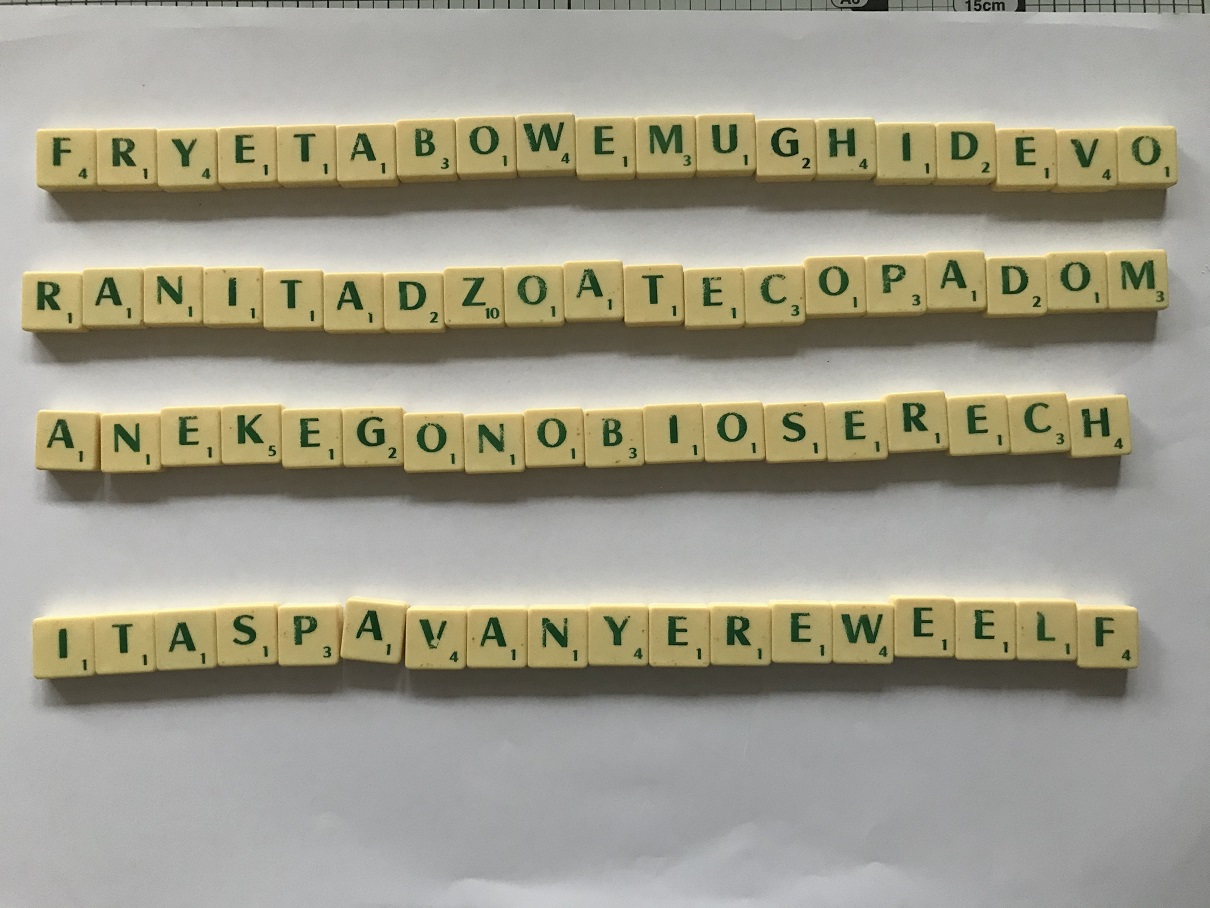 I managed a longer list with only 4 unused letters and 2 unused blanks.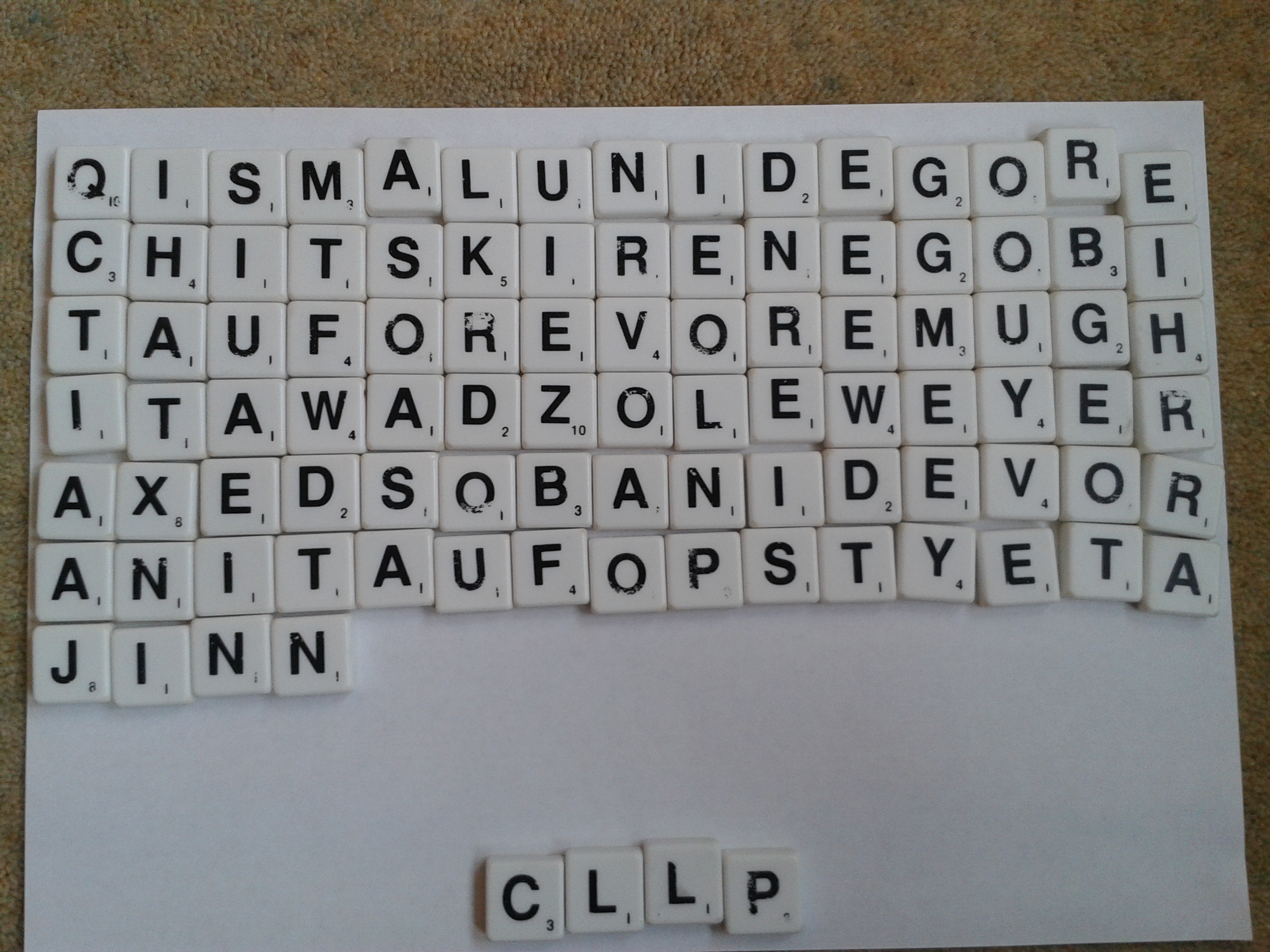 Even if you didn't have a go at the puzzle, do study the pictures above..you may learn some new 3 letter words.
Details

Written by

HG

Category: Wordplay
Hits: 764
Happy New Year !
A quick quiz to start the year 2020… what 3-5 words can you make from TWENTY ?
There are 26 words in total – well done if you find 12-14, excellent if you find TWENTY or more!
Answers below :
coming soon
in a while
nearly there
Here are the answers :
EWT
NET,   NETT,  NETTY,  NEW,   NEWT,   NYE
TEN, TENT, TENTY, TET,  TEW, TYE, TYNE, TYTE
WEN, WENT, WET, WEY, WYE, WYN, WYTE
YEN,   YET,  YETT,   YEW
Details

Written by

HG

Category: Wordplay
Hits: 794
Imagine you turn over your first tile…it's a blank. You think you will have a bonus word on your first rack. Your heart sinks when the remaining 6 tiles are rubbish! But what if you look closely….
Listed below are 26 racks, each containing a blank.
Each rack makes just one bonus word – can you find them all ?
As an extra clue, the blank represents a different letter of the alphabet for each different rack. (ie. Only use the blank as an A once, a B once etc..). The blanks are not in alphabetical order though!
Hint to solving…
Most of the words are everyday English, none are obscure Scrabble words.
Give each rack a few moments. Don't worry if you can't solve it straightaway.
Once you have found a few, then think about where the vowels might go, and then the JQXZ.
Make note of which letters you've used…and then try the remaining letters against the remaining racks.
MOG?KID
RUC?CII
LES?AAA
JEM?STY
OOV?CAA
COP?ABE
LIC?SOW
JOB?KUE
AAD?GHN
ARC?LIZ
HAL?RAN
TRY?YEM
AAC?DKW
MUST?SH
SOLD?XI
EEL?LOG
EEE?ACU
EX?IONU
IF?ACUS
AAJ?RSU
WET?BEN
HAY?CAW
TNY?BLL
GLN?RWY
KIP?PUN
NNN?UWO