Details

Written by

HG

Category: News
Hits: 2443
Every 4-5 years the Scrabble World Word List gets updated to incorporate recent new words and expressions.
On May 2 2019 Collins Scrabble Words 2019 (CSW19) was published. The number of changes from CSW15 was relatively minor and a helpful initiation kit has been put online here :
https://www.wespa.org/csw19ik.pdf?fbclid=IwAR20HacSjG9raFuZoBej02OhCcWMiW1td3uirIdmQpeKQ_Z3z8T6BFwrQ7Q
The fun for East Berks Scrabble started at 6pm on May 1st, the day before the new word list was published.
We received a phone call from Channel 5 asking to film us around midday on the 2nd to talk about the new list.
We had just a few hours to make sure out meeting room was free, and to assemble a number of members for filming.
Sadly when we chatted to Channel 5 mid-morning on the 2nd, we were no longer required as they had two UK/World Scrabble Champions coming to their studios!
Fingers crossed they remember us in 4 years time… when the next word book is due out!
Details

Written by

HG

Category: News
Hits: 2501
Two East Berks players competed in the 10 game Easter Warmup Tournament recently held in Leicester.
Helen used to be a member of the Leicester Scrabble Club, so it was a good chance for her to catch up with old friends!
As for the Scrabble, Graham played in Division A, had a bad start, but won the last 4 games to finish 5:5. He came 7th out of a Division of 14, far above his initial start position.
Helen was the top listed player in B, and was in contention for top prize for most of the tournament. The last round pitted her against one of the two players who had previously beaten her...and sadly she lost again. However 2nd place was no mean feat as there were only 8 rating points between top and bottom in her division.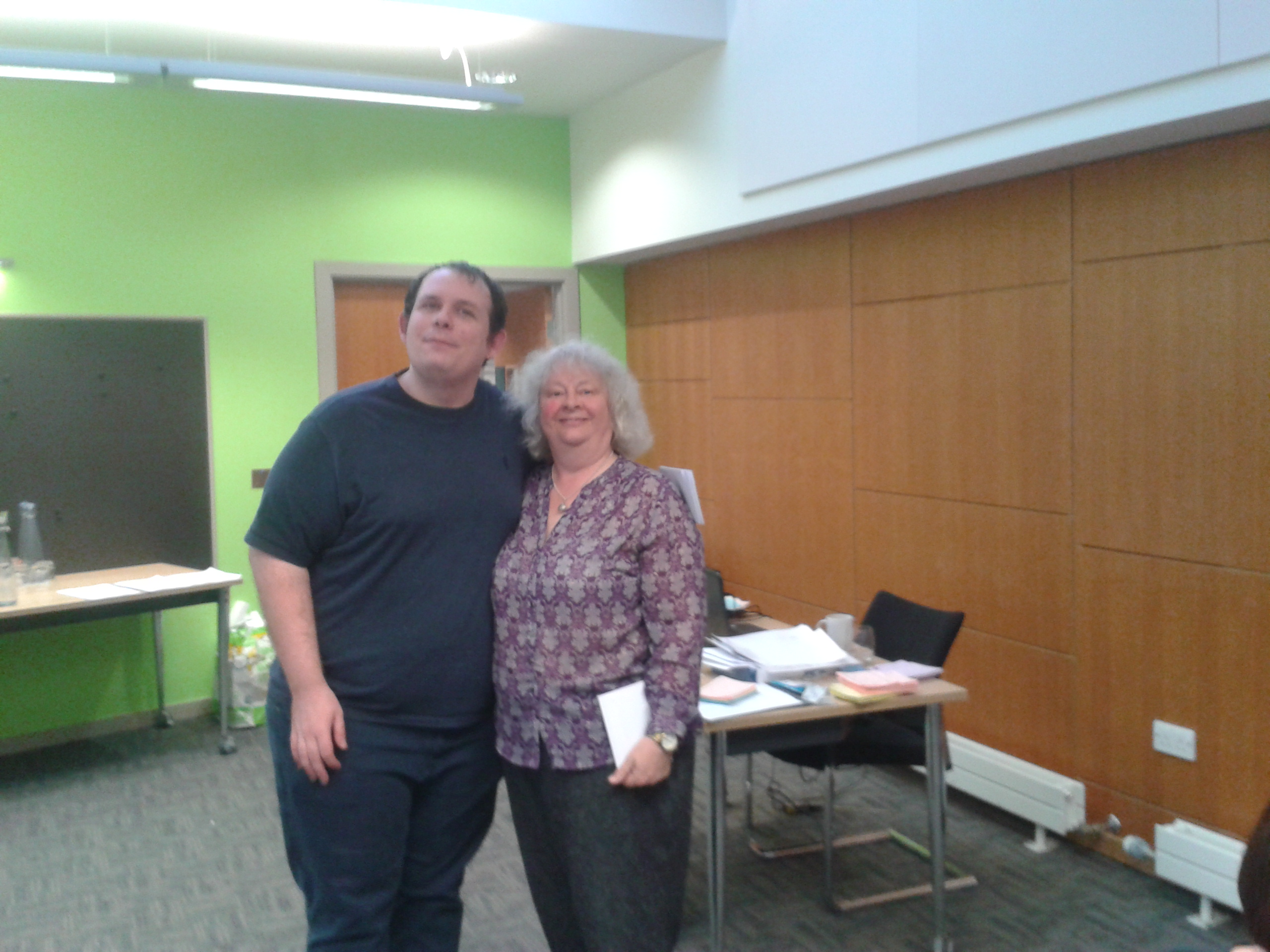 Details

Written by

HG

Category: News
Hits: 2340
On Saturday April 13th, three Scrabblers from East Berks Scrabble Club ventured for a one day tournament in Aylesbury.
Evelyn played in Division C and won 3 games out of 7. Maureen also won 3 out of 7 in Division B.
Also in Division B, Richard Spencer came second winning 5.5 out of 7, narrowly losing out to first place in the very final round of the tournament.
Well done to all competitors.
Details

Written by

HG

Category: News
Hits: 2497
During late March/early April we had to restore various articles from backup.
We would like to thank Richard Porter for his hard work in restoring our news items.
We are aware a couple of news items are still missing and those that we have restored may be slightly out of chronological order. We hope that this doesn't spoil your enjoyment of our website. If you want more information about an news item you think in missing please contact us immediately and we will be happy to help (see contact page).
Photos will be re-loaded retrospectively.
Details

Written by

HG

Category: News
Hits: 2376
Best improver for the 2nd quarter of the year is Frank Charlesworth, ahead of Deborah Porter and Hannah Corbett. 
High-scoring words:
·         124       REQUITAL                    Julie
·         124       RAZORED                    Joy
·         104       SEXTAIN                      Helen
·         99         TRASHIER                    Graham
·         98         JELLIED                       Helen
·         98         CARROTY                     Helen
·         96         CLOQUES                    Graham
·         95         PELICANS                    Graham
·         95         WHIMSIER                    Helen
·         93         RADIX                          Graham
·         91         ETAMINES                    Helen
·         91         GAMIEST                      Tricia
·         90         FLUBBER                     Hepzi
·         90         FAMINES                      Evelyn
Also:    SANDERS 89 Maire, FORTIES 86 Maire, SCORPION 86 Charles, REQUIT 79 Julie, JANTIES 85 Maire, BRETONS 84 Michael, SARDINES 84 Maire, AMBIENTS 80 Charles, SALTERS 79 Maire, MANUALS 79 Keith, FROGLET 75 Martin, FILAMENTS 72 Maire, SKELTER 71 Harminder, RENEWAL 70 Harminder, SEVERAL 69 Maire, PEANUTS 67 Keith, SPORTING 66 Keith
 Many bonuses or high-scoring moves by one player in a game:
·         REPEALS 74 INERTIAS 72 AMITIES 78 COINAGE 81                Richard
·         EMIGRATE 86 ANTIARS 67 ARTISTIC 67 BRAINED 75             Graham
·         FESTERS 76 SPEARING 63 FAMINES 90                                 Evelyn
·         OTARIES 64 STHENIA 80 TUTORIAL 59                                   Graham
·         STARLING 65 PELOTONS 60 SERRATI 76                               Graham
·         GROANERS 63 RESISTER 70 TENTORIA 64                            Helen
·         UNIVERSE 62 TAILZIE 77 ATONIES 79                                     Richard
·         CREATION 83 UNDERLIE 59 CITROUS 74                                Richard
·         ANGLERS 67 CLUMSIER 74 GAMIEST 91                                Tricia
·         RETINUE 70 PRICERS 63 PLANETS 71                                    Michael
·         LANOLINE 68 ELUATES 71 UNEARNED 69                              Richard
·         RIOTISE 69 INFLATES 62 LABORING 60                                  Tricia
 An unusual word and a good achievement:
·         Maire won all her games on February 7th – well done!
·         CHINTZ 48                                                                               Keith
Name

Old Rating

New

Rating

Rating Change

P

W

D

L

Average

Highest score

Frank Charlesworth

68

96

28

14

8

0

6

311.9

379

Deborah Porter

118

135

17

17

13

0

4

376.6

499

Hannah Corbett

122

136

14

27

16

0

11

346.6

434

Keith Radbourn

57

67

10

35

9

0

26

270.4

337

Jan Bailey

134

143

9

18

14

0

4

369.7

479

Sue Ashwell

69

77

8

19

7

0

12

283.2

331

Julie Wise

115

123

8

24

15

0

9

364.4

474

Maire Bennett

72

78

6

33

9

0

24

294.4

448

Hepzi Rodrigues

133

139

6

31

19

0

12

381.3

493

Richard Spencer

162

168

6

24

19

0

5

422.6

568

Maureen Barlow

133

138

5

35

21

0

14

362.0

427

Tricia Walker

153

158

5

31

24

0

7

371.5

490

Martin Stephens

112

112

0

29

12

0

17

330.2

469

Graham Harding

169

168

-1

40

30

0

10

416.4

565

Joy Wade

108

105

-3

15

6

0

9

340.3

436

Evelyn Wansbrough

141

136

-5

28

17

0

11

377.4

555

Charles Parker

102

96

-6

30

11

0

19

317.2

440

Kathy Smith

92

85

-7

18

7

0

11

287.2

344

Helen Harding

183

175

-8

34

26

0

8

411.5

503

Sharon Hewitt

146

136

-10

18

9

0

9

361.1

501

Harminder Rahanu

51

40

-11

33

1

0

32

258.3

353

Wanda de Poitiers

178

166

-12

31

21

0

10

419.4

528

Michael Spencer

77

64

-13

32

3

0

29

270.1

369

Insufficient games – a previous quarter's results, or 13 games this quarter, needed to qualify

 

Sheila Stears

 

107

 

3

1

0

2

271.0

343

 

Mithi Ravindran

 

74

 

3

1

0

2

264.3

277

 

Anne Connolly

 

123

 

2

1

0

1

405.5

424

 

Patrick Beatty

113

106

-7

10

3

0

7

350.3

413

 

Joyce Charlesworth

71

49

-22

12

0

0

12

265.6

325